Under Where?
?
?
?
I made you say
underwear

!
He he he!
This week in the news I saw a couple of different undies stories. Each made me giggle like a 4th grade girl.
The first was the story of a fire put out by a pair of ladies underpants. You can read the full story
here
. I'll just give you a brief rundown: a grease fire started on the stove, so a young man reached for something to smother it. The first thing he grabbed was a pair of his aunts extra large knickers. He got them wet, threw them on the fire, and succeeded in smothering the flames. Those were some smokin' hot (under)pants! The comments from the fire official when asked about the method of fire extinguishing were great:
"Clearly it depends on what size you are — but I don't want to go there."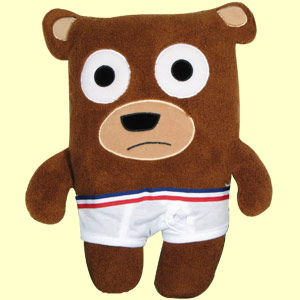 This reminds me of the Christmas when I decided to sneak a peak at a gift from my Grandma Faye. I carefully opened the end of the package without ripping the tape. I had to be fast and quiet so that none of my sisters would notice what I was doing and tell on me. I pulled the gift out of the wrapping and found........a pair of huge silky pink grandma undies. not cute. Let that be a lesson for you.
Next news story was at military.com.
GI's Mom Starts 'Project Underwear'.
also known as G-strings for GI's. Just kidding. I made that up just now - them'r just jokes. So, yeah, anyway, this soldier's mom saw a need and filled it. She started this worthy project as a way to help her son who is in Iraq and the other men and women who proudly serve with him.
Every mom hopes her child is wearing clean underwear....just in case. So this mom got friends and neighbors to donate 40 bags full of tighty whities and polka dot boxers. I don't want to trivialize this. I mean, I think it's a totally great idea and I'm sure well appreciated, but it made me giggle to think of her son opening a huge package from his mom - imagining it's a new wii or some homemade chocolate chip cookies or something - and finding instead hundreds of Fruit of the Loom! I wonder if he handed them out to his buddies or if he took the box to the mess hall and put out a little sign like "Got Shorts?" I see a calendar deal out of this....
I see London, I see France....