I get to go to Girls Camp with Hannah next week! I am so excited about it - I can't stop singing silly camp songs -
Anne Marie loves John Pierre, it's written on the cafe sidewalks everywhere......
Our ward is responsible for making sure there is enough bathroom supplies and for assigning KP duty. (What exactly do the K and the P stand for?) We are going this morning to buy garbage bags and cleaner and toilet paper.
The question is: How much toilet paper will 100 people need for 4 days? I couldn't sleep last night as I was trying to figure that out. If each person uses the bathroom 3 times a day, that is 300 times a day x 4 days = 1200 bathroom uses. If each person needs 5 squares of tp each trip, that makes 6000 squares of TP. So, how many squares are on a roll?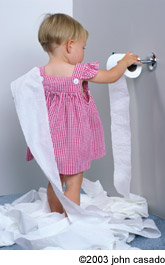 Okay, I just checked our TP, and there are 400 squares per roll (I did not count them, it is listed on the package) 6000 squares needed divided by 400 squares per roll=15 rolls. But what if everyone goes to the bathroom 6 times a day, or what if they use 15 squares instead of 5? I have a feeling 15 rolls is not going to be enough.
I wonder if there is some kind of toilet paper planning page that I can find online. I will check now. No luck. I have been searching for a site that lists the amount of toiletpaper recommended per person per week, but, though I found a Toilet Paper blog and some other interesting things, I cannot find the right formula.
I'll let you know next week if we bought the right amount.