The best part of the fair was entering our projects. It was very exciting to walk around finding our entries and checking to see how we did (by the way, I did not enter anything - wish I had.) Everyone did really well. Today we picked up the things that we entered and got our loot. Sydney got $6, Hannah got $7 and Nathan got $8.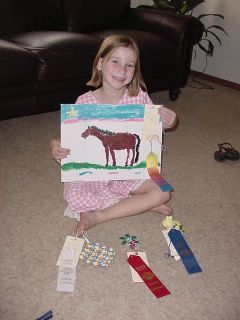 Sydney Won!
Sydney won 1st prize for her ceramic turtle, 2nd place for her plastic melted bead thingy, 3rd place for her hot pad, and a really cool rainbow ribbon for her horse painting.
Good Job, Hannah!
Hannah won 1st place and best-of-class for her wooden picture stand, and 2nd place for her ceramic turtle.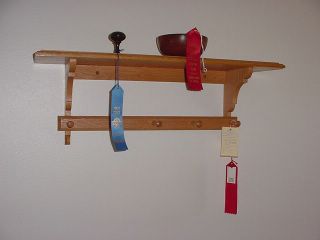 Rattle and Bowl on Shelf
Nathan won 1st place for his baby rattle, 2nd place for his cherry bowl (some creep with a baby rattle took 1st in the turned wood division), 2nd place for his shelf, and 3rd place for his rocking horse.
Rocking Horse
The rocking horse division was hotly contested, we think Nathan's horse was the best. Apparently they liked his woodworking so much that if he enters next year he will be considered a VIP and will have a little gold nameplate by his work.