2 years old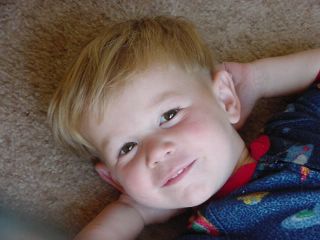 Happy Birthday!
Here is a little *Haiku I wrote when John was just a wee little guy:
Sweet little body
Snoring softly on my chest
Will you sleep in bed?

It seems like it was just a minute ago. He is getting so big, he is even sleeping in a big bed now. On Sunday, when I picked him up from his nursery class he said, "Fun time, class, mom." Oh man, I love that guy!
*We were writing and reading Haiku poems that fall for school. I would lay in bed counting out 5-7-5 poems. Our favorite book was
Cool Melons-Turn to Frogs! The Life and Poems of Issa
.