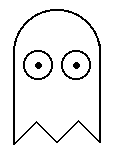 October is a dangerous month, with temptation lurking around every corner.
Temptation of the miniature candy bar variety.
Last night as I was reading about airplanes to John and Emily, the doorbell rang. Sydney answered the door and yelled:
"Somebody Ding-Dong-Ditched us!"
and she was right. There was just a bag of candy and a ghost picture sitting on the porch. How fun!
I let each of the kids have one candy before bed. I ate a miniature Baby Ruth.
After the house got quiet and my movie started I could hear that candy calling out to me. I tried to ignore it, but before the movie was over I had eaten 2 miniature Kit-Kat bars and a Crunch bar. AND as I went around turning out the lights I ate one last Kit-Kat bar.
That makes 5 all together.
Booooooo!
And they weren't even my favorite kind.
There are 20 more days until Halloween and to avoid turning into a pumpkin myself, I've decided to give myself a little chocolate challenge. No more Halloween Candy until Halloween. On Halloween I will only be allowed 10 candies. I think 10 is a good number. More than a handful, but not an entire plastic trick-or-treat pumpkin full.
I'll let you know how it goes.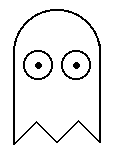 Boo-Yeah!
****5:45am is too early to blog. sorry - no time to edit. I was thinking it would be fun to make that ghost into a little side bar sticker for you, in case you wanted to join me, but if I don't get off the computer right now I won't have time to run. I'll try later.
Boo-Hoo to you.