What would I write about if I didn't have
Donna's Friday Feast
?
Appetizer (Pupu platter)- Have you been sick yet this winter? If so, what did you come down with?
Winter? Is it winter where you are? This tropical climate agrees with me, and I have not been sick. Maybe just a little homesick.
Soup - What colors dominate your closet?
Nathan's side is all greens and browns, My side is white and pink and black.
Salad - How would you describe your personal "comfort zone"?
I am uncomfortable with people talking too close to me. I am also NOT a hugger. Once, I thought I was being a bad Primary President, so for Mother's Day I made myself hug all the girl teachers in our ward when I gave them a little gift. It felt a little weird and I didn't do it the next year. Is that sad? Are you a hugger? People hug and even cheek-kiss a little more here and I think it's kind of sweet. I had a bit of a hug breakthrough last weekend when we picked up Nathan's friend at the airport. I gave him a hug after I put a lei around his neck. I was considering kissing his cheek but I chickened out - he was a stranger after all.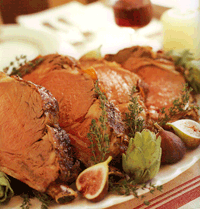 Main Course - On which reality show would you really like to be a contestant?
I love those PBS Colonial House shows - does that count as reality TV? Actually, I like the
idea
of those shows, but I don't usually like how they are editied to show all the drama. I want to see more of the little daily tasks - making butter, curing meat, lacing shoes, etc. Maybe they will have a Tiki Hut show here!
Dessert - Do you take vitamins?
I have a nice bottle of Women's One a Day with Calcium. I keep moving it around the kitchen to inspire me to take it. And I did take one on Tuesday. Or was it Monday.....
All this food makes me wonder what you are planning to eat this weekend.
Tonight is a Girls-Night-Out potluck with our ward. I am planning to take cinnamon rolls. I will fix tacos for Nathan and the kids and leave them a pan of cinnamon rolls, too.
Saturday is Soup Day, and I think I am going to fix a pot of Mom's bean soup. But I may change my mind and fix chicken noodle soup. Hard to decide. I like soup on Saturday because we get home from the beach all tired and hungry and soup is easy to pull out of the crockpot and serve with some good bread from the store. Since I am making bread this afternoon, I may double the recipe and put some of the dough in the refridgerator to save for Saturday to go with the soup.
On Sunday I am planning to make ribs in the crockpot and twice baked potatoes. And maybe some jello and devilled eggs and a salad. Mmm.
What's on your menu?