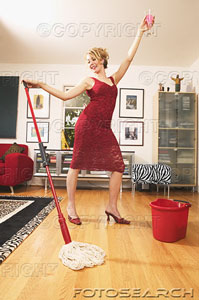 Mopping?
We have had a variety of flooring in the homes we have lived in. My favorite was the tile and carpeting in Pensacola. The tile was just the color of the sand and it always looked so clean and nice. It was a lot to sweep, but it only needed to be spot-mopped when sticky.
I did not like the wood flooring in Texas. I know it was great because it had lasted so many years, but I hated the feel of the grit on my bare feet. I also never wanted to sit on the ground to play with the kids. I'm sure a few rugs would have solved that problem. It was very easy to clean with the dust mop - just a few minutes to sweep through the whole house, then shake the dust outside. It also only needed water on the mop to clean it.
Now we have carpet and cheapy linoleum. Having carpet is like having extra furniture. We spend a lot of time on the carpet - watching a movie, laying down train tracks, bronco rides, etc. I like carpet. I do not mind the linoleum, but I do not know how to keep it clean and shiny. It gets really grimy and seems to also keep a build-up of dirt/grease even after mopping. I was using Mop and Glow, and that would make it shiny, but it definitely left a film. I don't know what to use - Pinesol? Mr. Clean? just water? Maybe it is my mopping technique that needs work. I just swish around a large string mop - maybe I need to get on my hands and knees and really scrub.
How do you keep your floors clean?