At about 1:30pm on Thursday, I got a call from Nathan's cousin Mark. Mark said "We just left Sioux Falls, so we should be there in about 6 hours."
Hmm
, I thought, but didn't ask,
are you guys staying here? How long are you staying? How many kids do you have? Should I plan a big dinner?
Instead, I just said "Great, we'll see you soon." and I called Nathan and said - "What is going on?"
I could vaguely remember Nathan talking to Mark about a month ago, and I gathered that he and his family were moving across the country. But I did not hear about an actual visit here with us. Nathan says he told me, but I think he forgot that small detail. Yikes!
Nathan did not return my call until he was heading home from work. In the mean time, I was running around crazy changing sheets, doing laundry, vacuuming, etc. I had Hannah and Sydney working, and Emily playing with John outside. So, at about 6pm (really only 4.5 hours after the initial phone call,) Nathan called and said that Mark was following him home and they would be here in about 10 minutes. So I started to brown some hamburger for nachos and tried to feel calm and excited.
I have met Mark a few times at Barrett family stuff, and I met Shannon at their wedding about 8 years ago. Mark's sister lived with us for a few weeks when we lived in Florida. Oh, and Heather, you may remember going to Sacramento with the Damons one Easter, and hanging out at Mark's parents' house. So I kinda knew who these people were, and it turned out that we had a great time with them here.
Mark and his wife Shannon have two girls, Emily and Jillian. Our girls had so much fun playing with their girls. Our Emily is just a year younger than their Emily, and they kept saying "we look like sisters" and "we are best friends."
Emilies on Crazy Horse
Nathan took Mark to work with him and Mark got to go in the B-1 for a busy taxi. Then we went to Mt Rushmore. The best part of the visit was playing games late into the night, last night. We set the kids up with blankets and pillows and a movie and they had a sleep over downstairs, while we played Sequence and ate ice cream Sundays upstairs. They just stayed 2 nights, but we had fun, and maybe we will be able to see them again next summer when we head to Washington.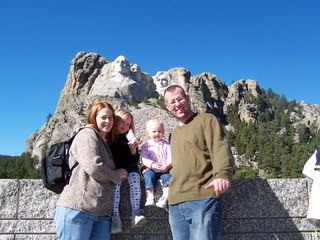 Cousins