The bad weather rolled in with thunder and lightening and hail. I ran out and moved my flowers onto the porch and sat and watched the storm. The wind has been blowing ever since, and it has been snowing. The wind has been incredible - making it hard to walk or even breathe outside. This afternoon the snow melted off and I think tomorrow will be a better day.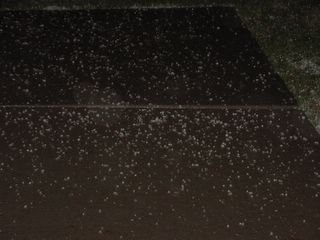 what the hail....
-*-*-*-*-*-*-
Emily's birthday is next week and she can't wait! Today we wrote up invitations to her party and she is so excited about giving them to her friends that she cannot get to sleep. We want to have her party at a little park - hopefully the weather will cooperate. Can you trust the extended forecast? I need that poem about being five (Heather - do you still have it?)
Emily and I read a book about a little girl named Emily with hair trouble. In the book the girls ends up loving to have her hair in braids. The illustrations show some interesting hair-do's and Emily wants to try all of them. So today we put her hair up into a high pony tail, and made two braids. Then one braid was wrapped around the pony tail and the other braid stayed out. It was pretty fancy. (It is hard to see the full effect - but trust me - it looked marvelous!)
Fancy braid
Tomorrow's 'do should be even better!