I have been complaining to Nathan that my new dryer isn't working. It has been taking two cycles to dry a load, which makes laundry take forever to finish, and also often leaves damp clothes in the dryer overnight which makes the washcloths have a yucky smell.
When we came back from our trip I noticed an odd smell downstair. I thought maybe it was the bathroom, so I cleaned the toilet. The smell was still there, so I searched for an old diaper hidden somewhere. I couldn't find a diaper, so I started sniffing carpets and closets. I decided the odd smell was a dead animal. We have had mice in the garage, and sure enough there was a dead mouse in the trap, but it was all dried out, and the smell still lingered somewhere in the house.
I got around to washing clothes on Sunday evening. I opened the dryer to move along the clothes and I found the smell. The inside of the dryer smelled awful. There was nothing in the dryer, so we decided something had died in the dryer vent. Our laundry room is in the middle of the house, so the dryer vent goes around the laundry room, under the hall, under Hannah's room, and out the wall.
We called Housing on Monday morning and they sent out a guy to check the vent. He used a coat hanger to dig around in the vent and found this: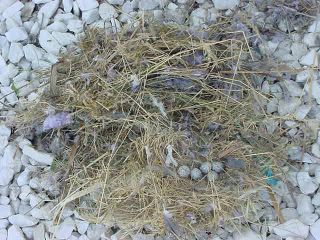 Nest
He bagged up all the grass and eggs in two Walmart bags. When we opened the vent to check for more, a little bird flew out at him. He did not find anything dead, and said that it was probably the grass.
The dryer worked so much better. I dryed two loads on Monday. But on Tuesday the smell was back. So another guy came with a leaf blower and used it to blow through the vent. There was more grass and lint and finally, a dead bird.
Today (Wednesday) the smell is gone, the dryer is going, and we have a mesh cover over our vent!